VANESSA'S PARENTS: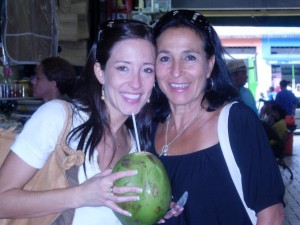 Vera Mazzieri
My mom is my inspiration to always keep going and reach for the best. She is the strongest woman I know and has overcome so many battles with the best attitude ever. She still spoils me and I love it. :) And she is always trying to help everyone around her and solve people's problems. She was a psychologist for many many years in Brazil and knows exactly what you need to feel better from any problem. One of my first big dreams that she made come true was a trip to DisneyWorld when I was 10 years old. That trip changed my life forever, because that's when I discovered an indescribable passion for this country and  started dreaming of moving to the US.  When I decided I wanted to move here in 2001, she totally embraced the idea and moved here with me, along with my cousins and brother. I would not be here it wasn't for her support and constant effort to make ALL of our dreams come true.
This wedding is as much a dream for her as it is for me. She has participated in every step of the way and I couldn't have planned all of this without her support and great ideas. She is creative, smart, dedicated, always happy and has the most energy of everyone I've ever met. If you think I have a crazy life and never stop.. well, that (and many other things) I definitely got from her.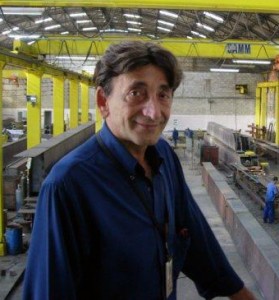 Odilon de Paula Arantes Jr.
The best memories I have about growing up with my dad are filled with laughs, good music and fun times. He is the kind of person who will make you laugh until you can't take it anymore. Plus, he is a great dancer which, from what I heard, is what stole my mom's attention when they first met. My dad is pure at heart and is very dedicated to his work. He is an engineer in quality control and loves what he does. My brother is a complete copy of him (inside and out), which helps a little bit to tolerate the distance that makes it so hard for all of us. He and the rest of my family are still in Brazil and I miss and think of them every single day of my life. He lives in São Paulo, Brazil, with my dear Grandma Lina, who I love so very much!

SEAN'S PARENTS: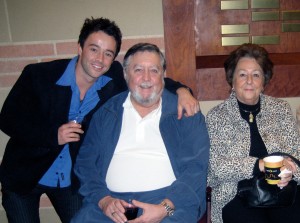 Poulina Josephine Scott
Poulina Scott was born in Haarlem, The Netherlands as Poulina Josephine Kresse. Her father and my Grandfather Hans as a professional artist had illustrated and wrote many books about American Indians so my mom decided she wanted to move to the United States after graduating college at Huis te Lande in Rijswijk. She moved to the U.S. on November 23rd, 1963. This was a very important date in America because President John F. Kennedy was assassinated the day before. She ended up in Minnesota where she knew people that could get her a place to live and a job. She started out working as a florist for 6 years and then would also spend Spring, Summer and Fall as a tour guide for Japanese and American groups through Europe. She worked for various travel agencies before starting her own Travel Agency, Traveltrends, which she still runs today.
William James Scott, Jr. (Jim)
Jim Scott was born in Concord, CA. He moved around a lot as a child because his Dad, William James Scott (Bill) was in the Navy for his entire career of 29 years and retired as a Captain of an Aircraft Carrier and ran the Naval Air Station in Minneapolis. He lived all over the country when he was younger including Coronado, CA, Pansacola, FL, Rhode Island, Bethesda, Maryland and finally Minneapolis, Minnesota. He graduated from Chevy Chase High in Bethesda and then went to St. Thomas Catholic College in Minneapolis. He was very active in sports growing up including Tennis, Baseball, Football and Snow Skiing. He was also very involved in helping me with any sport I wanted to play including teaching me how to snow ski as soon as I could walk. He eventually opened up and ran his own trucking company before becoming an independent broker for various transportation companies until he passed away on February 29, 2008.
How Poulina and Jim Met
Both of them were active skiers so it's only natural they met at a ski club meeting in Bloomington, Minnesota in April of 1970. Poulina's roommate Audrey was dating Jim's friend Dick and when he was brought over he asked him which one he was dating and when he said Audrey, Jim said "I'll take the other one!" They got married on January 6th, 1973. On their honeymoon they drove to Florida from Minnesota and went on a Caribbean Cruise. They both loved to travel and even went to India and Nepal in 1978 where they got a guided tour from Tenzing Norgay, also known as the Sherpa who was with Sir Edmund Hilary when he was the first person to climb Mount Everest. They were married 6 years before I was born on July 19th, 1979. During my time growing up was when I got the desire to travel. My parents were also big skiers. Both of my parents were on the Ski Patrol in Lutsen, MN when I was growing up. This is where I learned to ski when I was only 1 1/2 years old. We had numerous ski trips to Austria, Switzerland, Germany and I spent many summers in Holland visiting my grandma. Jim decided it was time to move in the winter of 1988 after a brutally cold winter in Minnesota. We moved to Sacramento, CA in 1989. We then moved to Folsom, CA in 1996 and my parents were married for 35 years until my dad passed away in 2008.