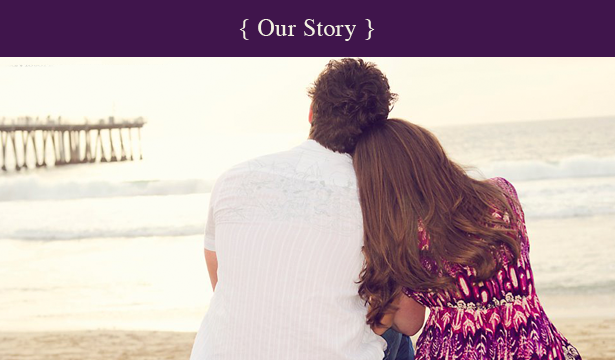 HIS VERSION:
On Saturday January 20th, 2007 both of our futures would change. Little did I know that when I went in to work my bartending shift that night, I would meet my dream girl. Not long after I was working a group of very well-dressed guys and girls came in that were celebrating the couple getting married. I immediately noticed this beautiful blonde in a purple dress that was in the group. As I was talking to the group and buying them congratulatory shots I was trying to focus my attention on the beautiful blonde who introduced herself to me as Vanessa. Shortly before they were leaving her friend grabbed one of our bar coasters, which was an advertisement for a Lifetime show called "Gay, Straight, or Taken." She asked "Which one are you? " I responded with "Straight and there is nothing on here that says single." To which she responded with "So is Vanessa." We all laughed and as they were leaving I said to Vanessa "You can't leave without giving me your number." She wrote down her number on a Post it Note and little did I know that moment would change my future for the better. When we finally talked on the phone 5 days later we talked for about an hour and a half. We set our first date for Sunday January 27th and went to Fonz's in Manhattan Beach.
Over the next few months we spent a lot of time together getting to know each other and I began to realize that this was something rare and special. We had so many things in common such as family in other countries with hers being in Brazil and my Mom's whole side of the family living in Holland. We have passions for the same thing, especially traveling. We were already planning our first trip together to the Dominican Republic before we were even officially a couple. Since then we have traveled to Brazil twice, Ireland, Holland, Cabo San Lucas and Rosarito Beach, Mexico, Monterey, San Diego, New York Lake Tahoe, Mammoth, Las Vegas and our next trip being St. Lucia. Now almost 5 years later, I love her as a travel partner but more importantly I love her as my partner for the rest of our lives.

HER VERSION:
We were out celebrating a friend's wedding and walked into the bar where Sean was working at. I noticed him right away and thought he was super cute, but didn't want to "compete" with anyone for his attention… :) So we just talked here and there whenever we had a chance and, as I was leaving, he asked for my phone number. He called me a few days later and we talked for a long time. I think neither of us wanted to hang up, because we were enjoying so much getting to know each other. Then, it took me a little while to fully open my heart to him, but he was very patient and day after day I started to fall in love with him.
Early on we found out we both had such a big passion for traveling and we knew we were in for a good time. Sean is my partner in crime, my travelling buddy, my partying friend and my prince charming. He can talk to a stranger for hours, he is super kind to animals (specially to our cat Buster), and he takes really good care of our home.  We are silly, we laugh, we fight, we make up and I can always be myself around him, because he loves me for who I am. This has been the longest relationship we both have ever had and we're still having the time of our lives.