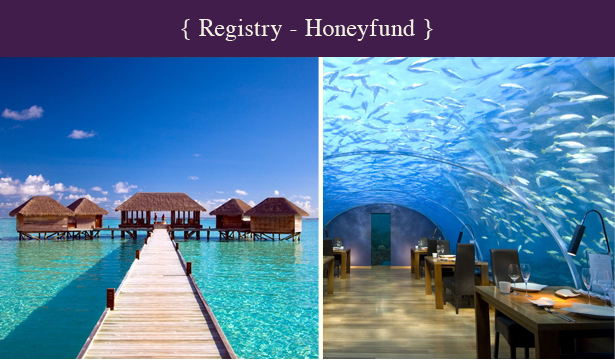 As most of you know, all we ever want to do is travel so we have decided to only have a Honeyfund as our wedding registry.
Our destination will be the Maldives Islands, in the Indian Ocean. Our biggest dream is to stay in the overwater bungalows, for which the Maldives are famous, as well as beautiful white sand beaches and turquoise water.
The generosity of all of our guests will help make our dream Honeymoon come true. Please see the instructions below:
To access our Honeyfund, click on the link above and you will be redirected to the page we have created with a list of everything that we want to do on our Honeymoon.
Each item was broken into smaller parts, so the total value of the gifts can be chosen by our guests.
Click on the item you have chosen and select the quantity you would like to purchase. (The amount in US dollars will be shown next to each item.)
Your total amount will be shown on the bottom of the page.
When you are ready to finish your order, please click on "Continue" and you will be redirected to the PayPal page, to complete your payment with a credit card. (Please note: you do not need to be a member of PayPal in order to complete your payment.)
We thank you all in advance for all the contributions!
"The world is a book and those who do not travel
read only one page."
- St. Augustine